Employers are required to provide a safe workplace for their employees.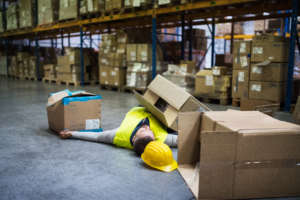 Employers are also required to make sure that the environment will withstand the work performed there. From time to time accidents do occur and Workers Compensation is designed to provide coverage.
Workers Compensation Insurance was created to serve two purposes:
Injured workers receive the care and compensation they need during the injury and rehabilitation period.
Employers are protected from lawsuits from workers who were injured on the job.
Workers may receive benefits regardless of fault of accident and in the event of loss of life, death benefits may be provided to the worker's dependents.
Injuries are covered when workers are acting in the course and scope of their job duties such as working in an office, factory or driving to job sites from other job sites, but not driving to and from work. Additionally, other events that may be covered under Workers Compensation Insurance could include terrorist attacks, workplace violence, natural disasters as well as occupational diseases or illnesses.
Treatment given to employees using Workers Comp Insurance is whatever is medically necessary and appropriate. There are usage guidelines that outline acceptable treatment protocols and diagnostic testing as a way to reign in expenditures.
Benefits given to employees will vary based on the type of injury, severity of impairment and length of rehabilitation. Most states will require benefits to be paid for the duration of the disability and may specify a maximum number of weeks eligible. The benefit amount will be a percentage of the employee's weekly wage.
It is important the employers understand their rights and expectations of Workers Compensation. Each state has slightly different laws about the coverage limits and requirements so it is important that business owners talk to the professional agents at Fero Insurance.
Fero Insurance is Florida's Premiere Commercial Insurance Provider.
Locally owned and rooted in Florida, the staff at Fero Insurance understand the needs of Florida businesses. Call us today for your next commercial insurance consultation.